I have been working away at a long, emotional post that I just shelved in my draft folder because frankly, I am too emotionally strung out already today. The last thing I need is more lemon juice ... especially when it's under my power as to whether the juice flows or stays in the lemon.

With that said, I'm

(finally)

giving The Hayes Zoo what she asked for months and months ago--a short list of titles that I consider among my very favorites in all the world of literature. This is a far less emotional exercise, and one I can therefore throw myself into with relish and abandon. :-)

So, here you have it: an incomplete list of some of my favorite reads in absolutely no order whatsoever. I say "incomplete" because I have culled the obvious books for brevity's sake. Really--do you need to know that I consider

To Kill A Mockingbird

,

The Great Gatsby

and

East of Eden

must-reads?

No, you don't.

Your high school English teacher already told you to read them. And if you didn't listen to her, you surely aren't about to listen to me, now are you? :-)

1.

Good Omens
by Neil Gaiman and Terry Pratchett. If you know Terry Pratchett's work, this book will delight you. It is winsome, decidedly British and full of some of the most tightly-written humor I have ever encountered. It's an absolute rollick. That being said, if your theology forbids you from reading anything that might cause you to have sympathy for upstart witches, please don't touch this one. The plot centers on the End Times, a demon who wreaks havoc by plotting to snarl traffic and an angel who prefers his rare bookshop to heaven. This is "Wings of Desire" ("Der Himmel Über Berlin") for laughs.

2.

Stoner

by John Williams. A tale of an everyday life lived in its simplest form but ruled by an obsessive love of literature. Beautifully written. Lingers with you long after you close the cover.

3.

Vindication

by Frances Sherwood. A novelization of the life of the revolutionary feminist Mary Wollstonecraft. The historical settings ring true, the characters blossom, and the echoes of more recent history are haunting. This is a book where the details dominate. One of the few books in my lifetime that I have sought out in first copy, hardbound format.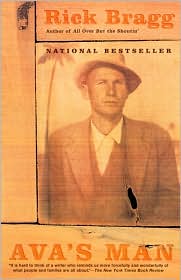 4.

Ava's Man

by Rick Bragg. The companion volume to All Over But the Shoutin', this book is the first I've ever read that I wished like an
ything I had written. Bragg's voice is real, his landscapes are so lush you can almost smell the swamps, and his dialects are spot-on. I swear he and I are related, because he his family and mine are shockingly similar.

5.

Raney

by Clyde Edgerton. A short, bubblegum story that chronicles the eye-opening first year in the marriage of a "liberal" protestant Christan and a "conservative" protestant Christian. Hilarious and sweet.

6.

Drop City

by TC Boyle. Again, not a book to place on hold at the library if your pastor's wife would disapprove of seeing it there. Follows a small band of back-to-nature hippies as they move their commune from sunny CA to Alaska, by way of all of the trappings that the 60s can offer. Keep out of the hands of children, but enjoy the insight into what helped shape our current culture.

7.

Divine Secrets of the Ya
Ya Sisterhood

by Rebecca Wells. One of my favorite books of all time. Vivi still breaks my heart, and I still want to sit next to Sidda on an airplane.

8.

Building Suburbia

by Dolores Hayden. A crazy-precise look at the rise of suburban living in the United States. If you've ever wondered how we made the jump from a dual agrarian/industrial-living society to a nation of commuters, this is the book to read. Also includes a fascinatin
g treatise on mail-order housing and the beginnings of stri
p malls.

9.

Oral History

by Lee S
mith. At turns harrowing and heartwarming, the
spirits of the family that inhabit this book entertain and educate at the same time.

10.

In the Skin of a Lion

by Michael Ondaatje. You read

The English Patient

. O.k., so you didn't read it; you sa
w the movie.

Anyhow

... Ondaatje's brilliance as a writer shines far brighter in this book. Although the main character is somewhat (o.k.,

very

) reprehensible, his development and motivations are so realistically chronicled that you can't help but be swept away by the novel.