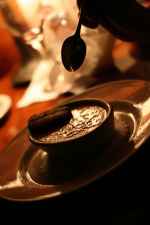 Dinner cost a little over $100. Yup--that's $50 less than our grocery budget for two entire weeks. The dessert and wine tasting flight on the cozy patio of the lounge was another $40. Add in the babysitter and the gas, and you're looking at a darn pricey evening.

I wore my most fab-u-lous, floaty skirt and a black stretch t that makes me look almost skinny. Hubby got way gussied up in his pin stripe button-down and nicest work pants. We looked dashing and felt like royalty.

The food was beyond tasty. Not only did someone else cook it ... they included mushrooms!

Real

mushrooms--
Enokitake, Nameko, Chanterelle .. not a white button among them! There were mushrooms in the appetizer, mushrooms in the salad, mushrooms in my entree. It was glorious. A true sign of grown-up food is, in my book, the inclusion of mushrooms.

Did I mention chocolate creme bruleé? German chocolate cake? Yummmmm...

A truly memorable evening!