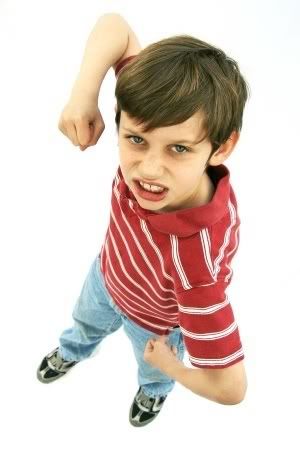 I get asked all the time what it's like to "raise other people's kids." It really doesn't occur to me that Oliver or Manolin

are

other people's kids. They seem like, well, just

kids

to me. Even the short-term foster placements we've had have felt like members of our family. Temporary members to be sure, but members who slid into the framework with just a little bit of effort. I feel the same way about the children of close friends--I don't hesitate for a second when there's a booboo to be kissed or a hug to be doled out or a "Simmer down there, mister," that needs to be issued. They don't grate on my nerves and they don't make me heave deep, heaven-help-me-through-this sigh.

So why is it, then, that there are some children who just strain every ounce of your being whenever they're around? Children who go left when you say right. Children who buck and twist and kick at every little suggestion. Children who test every rule, who are loud and uncouth and who never,

ever

remember to flush.

Children who drive you crazy, in other words. You know--

other people's kids

.

What is it about these children that makes them absolutely unable to go with the flow? What renders them unable to grasp even the merest shred of self-discipline? Is it nature or nurture? Parenting or personality?

I don't know. I

really

don't know. But I tell you this. Taking on other people's kids is a big job not to be undertaken lightly or without coffee and chocolate.

Come to think of it, maybe it's best if you put the chocolate

in

the coffee.

There you go: my new rule of thumb.

No more other people's kids without a mocha.

Period.